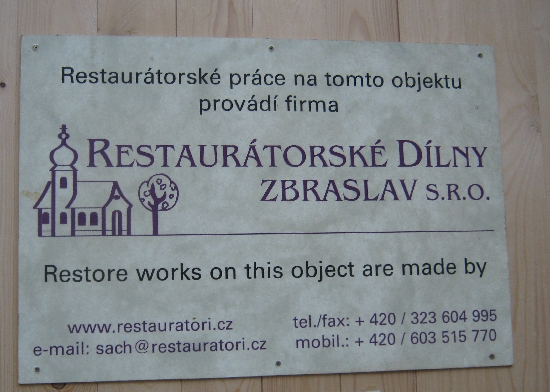 St. Clement's Church, Prague, where the English-speaking Anglican congregation worship, does not belong to us – it belongs to the Ceskobratrské Cíckve Evangelické / the Evangelical Church of Czech Brethren. They are a joint Lutheran/Reformed Church and by far the largest protestant grouping in the Czech Republic. The CCE have their service at 09.30 each Sunday – we therefore have ours at 11.00. We pay them a very modest rent for the use of their Church building.
Over the past few weeks, the CCE have arranged for the various exterior doors of the Church building to be taken down, one pair at a time, so that they can be taken away and renovated. Initially it was the west doors, ones which we rarely use. Then it was the south doors, the entrance our congregation normally do use. Now the south doors are back, the external vestry door has been taken away & that entrance temporarily blocked up.
The company carrying out the renovation are clearly keen that both people walking past the Church, and those who worship there, should know who is carrying out the restoration work on the doors. And so they have made a board which has been erected in front of each entrance to the Church, whilst the doors for that particular entrance have been missing. Realising that an English-speaking congregation also use the Church, somebody in the hierarchy of Restaurátorské Dílny Zbraslav S. R. O. obviously decided that this notice should not only be in Czech but also in English. But as you can see – it isn't in English. It is in Czenglish!!!!!
Czech speakers are extremely quick to correct any foreigner who fails to decline a noun or adjective correctly when trying to speak Czech. Yet many of those self-same people regularly make an absolute shambolic mess of the English language, reproducing their various mistakes in menus and notices like this one, with absolutely no realisation of how ridiculous their attempts at written English actually read and sound.
Therefore, for the benefit of the management of Restaurátorské Dílny Zbraslav S. R. O., and for any other Czech person reading this blog post, 'Restore works on this object are made by' is completely incorrect English! 'Restoration work on these doors is being undertaken by' or 'Work to restore these doors is being carried out by' is what should have appeared on this notice. One simple phone call to me would have been all that was required for Restaurátorské Dílny Zbraslav S. R. O. to avoid appearing absolutely stupid.
Can someone please explain to me why so many Czech people are so unwilling to ask a native English-speaker to check their English text before putting it into print? If you really want to make an impact on English-speakers, please try writing in English and not in Czenglish!