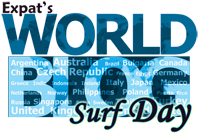 Knowing the dates of public holidays when you move to or visit a country of which you are not a native, is quite important as my wife and I found out only on Monday of this past week. We were returning from our trip to Turkey about which I've just started blogging, when we drove from Italy into Austria on the penultimate leg of our journey home to Prague. We were driving along the Austrian autobahn when my wife said, "Rather than stop at a service station for lunch, why don't we drive into a nearby town and find a nice restaurant instead?"
So it was that we drove into Spittal an der Drau and parked in the centre of the town. It was only when the parking ticket machine refused to accept my euro coins I tried to feed it, did it begin to dawn on me that the town was rather quiet. Then I noticed that all the shops and banks were also closed. We did eventually find a pleasant bar-restaurant that was open where I enjoyed a fine Wiener Schnitzel. Whilst there, we quietly enquired of the proprietor whether the day was by any chance a public holiday. "Of course", came the reply. "It is the Austrian National Day." Therefore beware if you ever have cause to be in Austria on 26th October. Most shops and businesses will be geschlossen!!
There are five public holidays annually which are peculiar to the Czech Republic. Each celebrates individuals or events that helped form the Czech nation.
5th July celebrates St. Cyril and St. Methodius, two brothers who lived in the ninth century and were responsible, both for bringing the Christian faith to the Czech and other Slavic peoples, but also for inventing an alphabet that allowed the Slavic language of the day, usually now known as 'Old Church Slavonic', to be written down for the first time. Whilst the Czech Republic is now seen as one of the most atheistic countries in Europe, these two Christian saints are still celebrated for being responsible for the origin of Czech culture.
28th September celebrates the patron saint of the Czech people, St. Wenceslas. He is believed to have been martyred on this day in 935. He is well known to English speakers because of the Christmas Carol 'Good King Wenceslas'. The day is also known as 'Czech Statehood Day', no doubt because Wenceslas (Václav in Czech) is seen as an embodiment of the Czech state.
6th July is celebrated as Jan Hus Day. Hus was an early Church reformer calling for Church teaching and practices to be in line with what appeared in the Bible, for the Czech language to be used in liturgy and preaching and for the people to be able to receive Holy Communion in both kinds. He was excommunicated from the Roman Catholic Church in 1412 for insubordination and burnt at the stake on 6th July 1415. Once again, it is his desire for the use of the Czech language that has caused him to be celebrated more as a Czech cultural hero rather than as a Church reformer. The Communist government of 1948 – 1989 even tried to make him out to be a Czech proto-communist!
28th October marks Czechoslovak Independence Day. It celebrates the declaration of independence from the Austro-Hungarian Empire on 28th October 1918 by Czechs and Slovaks in the dying days of World War 1 and the establishment of what is now referred to as the 'First Republic' under the presidency of Tomáš Garrigue Masaryk. Although the state of Czechoslovakia ceased to exist on 1st January 1993 following the 'Velvet Divorce', the public holiday remains!
17th November is the most recent addition to the Czech calendar of public holidays and is officially known as 'Struggle for Freedom and Democracy Day'. It marks the day in 1989 when students began demonstrations that led to the fall of the Communist regime and the successful 'Velvet Revolution'. This year it will be especially celebrated being the twentieth anniversary of those remarkable events.
On all Czech public holidays, the Prague integrated transport system runs a Sunday timetable and trams and buses display two Czech flags at the front. Why two flags you may ask? The answer lies in the years of Communist rule. The Communists loved flags and insisted they were displayed on public holidays, not just on trams and buses but on a variety of buildings too. But the Czech flag could never be displayed on its own; it always had to be accompanied by the flag of the Soviet Union. Now this is no longer required, they just display two Czech flags instead!
This was my contribution to WBSD and I'm asked to link next to an expat blogger I know rather well, Hospitalera who blogs about 'Christmas in Prague'.
We are also being 'Twittered' by Karen and I'm asked to include the following about her. Karen is an American expat blogger last seen in Prague. The Wall Street Journal said, "Her blog makes a fun read for anyone looking for reassurance that change can be a wonderful thing–and also for anyone interested in visiting the Czech Republic."